Workman® Tripods
MSA Tripods make confined space entry with vertical descent easy. The Workman Tripod features internal leg-locking mechanism, maximum height indicator on the tripod legs, cut-resistant leg pin retention chains, recessed product labels, reduced weight and integral carrying strap.
10102002

WORKMAN TRIPOD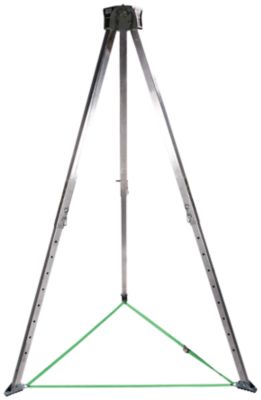 WORKMAN TRIPOD
Length:
0.422 M (16.614 IN)
Width:
0.414 M (16.299 IN)
Height:
1.659 M (65.315 IN)
Weight:
22.680 KG (50.001 LB)
Automatic hinge lock legs with incremental adjustment
Skid resistant feet
Markets:
Construction, Oil & Gas, Utilities, General Industry, Mining
Applications:
Confined Space, Welding
Approvals subject to change without notice and may differ based on configuration, part number and/or country.
Contact Customer Service or check approval label on product for specific approval information.
ANSI Z359.1 CSA Applicable OSHA requirements
USA Approvals
European Approvals
International Approvals